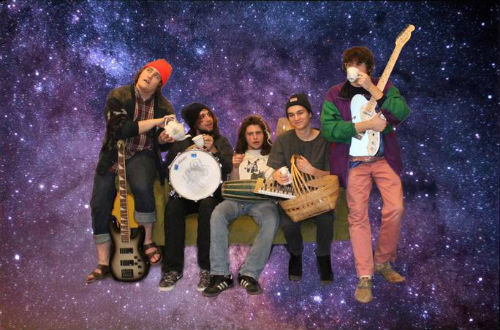 Seattle, WA – Pacific Northwestern group Basement Surfers aren't quite a "band" in the traditional sense of the word. Their platform is music, mostly, but their performance goes beyond your standard display of musical talent (though there's plenty of that to go around). Instead, it's a "collective," a group of people banded together to make something that's bigger than one platform. Equal parts art and music, the group is often composed of eight or so people dawning homemade masks and cloaks, performing music accompanied by video art. At the core of the group are the group's two mainstays, sibling duo Carter and Mikey Prince.
Inspired by musical icons that span the artistic spectrum, from the Beach Boys to Animal Collective, the Basement Surfers' music is psychedelic and, in a word, "goofy." Says Carter Prince, "We aren't afraid to explore more goofy sounds and parts because in the end, we want it to be fun and uplifting more than anything." If you've caught wind of their performances, you know that the environment and enthusiasm behind the group's distinct sound are what makes them so special. Not only have they created quality music, but there's an inherent inclusiveness in their performances. They've created a safe space where people are free to enjoy themselves and reflect.
Basement Surfers released their latest album, Human Music, earlier this spring on April 28th. The album is a 50 minute-long "cosmodrama" which chronicles a nearly-fictional being from space who crashes onto Earth. The being is thrust into humanity, quickly discovering concepts like love, beauty, creativity, and the joys of the human experience. All too soon, however, they are confronted with the darkness of humanity, discovering hurt, greed and selfishness. As Carter explains it, "It depicts the space being's inner questionings on how, and if, they have the right to earn forgiveness and redemption." The moral of the story? "Living should be about making less mistakes and affecting people more positively over time, and then you're dead." If you're intrigued, you're not alone. Much of Basement Surfer's music is intentionally thought provoking, leaving space for listeners to reflect inward while enjoying the music.
Listen to Basement Surfers:
Bandcamp: BasementSurfers Spotify: BasementSurfers


Keep up with Basement Surfers on Social Media:

Facebook: basementmuzak  Instagram: basementsurfers